Huawei programmers frequently submit Linux kernel patches, but the administrator responds: Don't brush KPIs
Huawei programmers frequently submit Linux kernel patches, but the administrator responds: Don't brush KPIs
In the past two days, an email titled "Don't submit patches for brushing KPIs to waste administrator time" went viral!
After the release, it directly rushed to the top of the "hot list" of the Linux kernel mailing list.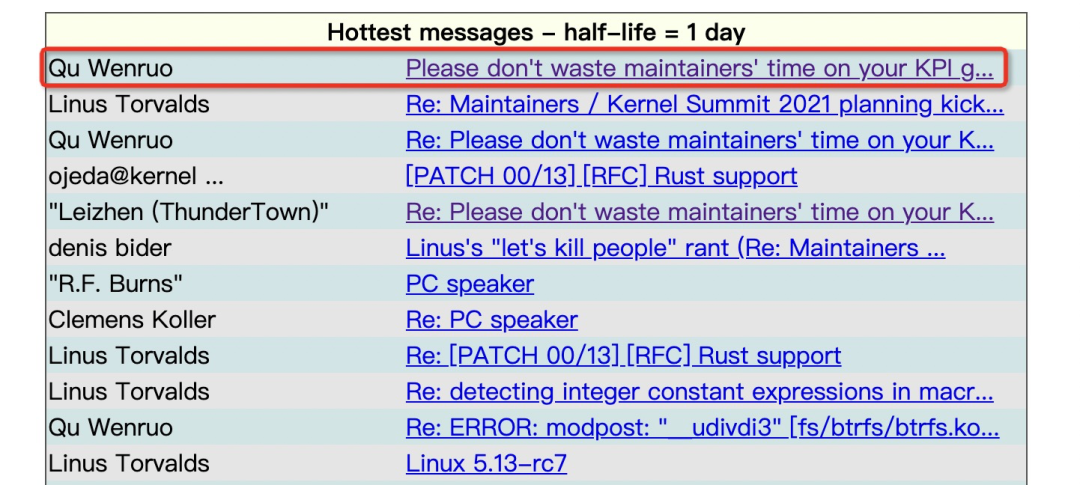 The email pointed at Huawei .
A kernel administrator stated in an email that he had received many patch submissions with the suffix @huawei.com recently, but they were all " useless fixes ", such as spelling errors :
This should be something that novices or students often do, but if you do this, it makes people suspect that you are brushing KPIs .
In addition, the administrator stated that he saw several maintainers objecting to this worthless repair, but the submitter still wanted to merge them regardless of the fact.
He believes that such an approach will only damage the company's honor, and ask the submitter to stop this KPI behavior and make a real contribution to the Linux open source community.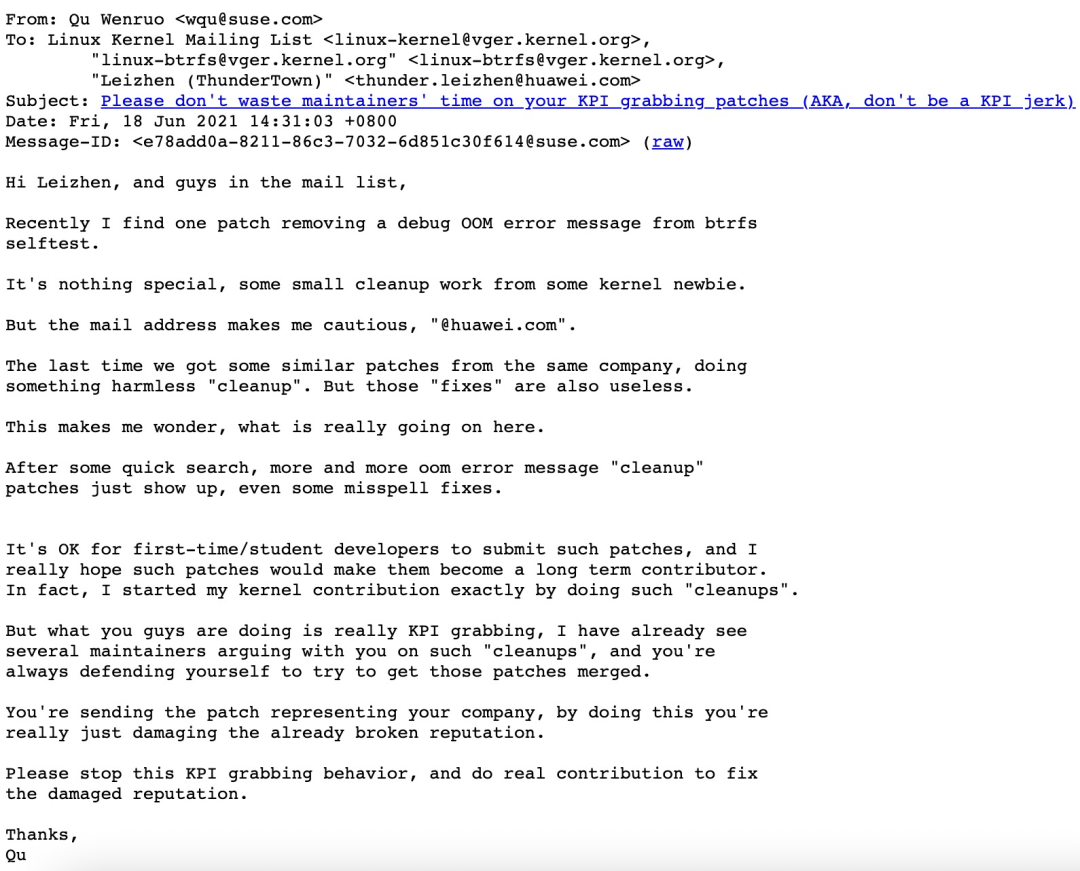 Are you really brushing KPI?
To answer this question, you need to look at what he has submitted.
Briefly browse the patch submission record of the submitter:

There are indeed some minor changes, most of which involve a small number of lines of code. Many of them clean up some error messages and fix spelling errors. It seems to be doing a code review?
He also submitted 6 minor amendments to the same document in one day .

And probably in 2018 and before, the number of patches submitted by this person is far less than in the past two years, but most of them include valuable modifications such as ARM64 SMMU driver optimization.
From 2018 to 2019, there were almost no submissions, but in the second half of 2020, his submissions suddenly began to become frequent again, until the most recent May.
Behind the proliferation of patches, the quality is indeed not as good as before , and most of them are "small troubles".
What the hell is going on? Really suddenly put on KPI?
Such an email has caused a lot of discussion in the developer community.
Some people think that this kind of behavior of fixing a small problem with each commit is just brushing KPIs. Others think that the open source community is deliberately picking things up, why not allow such small problems to be fixed, and there are even various conspiracy theories.

The person finally replied two days later:
My past contribution to the kernel is mainly to optimize the performance of the ARM64 SMMU driver, including iova optimization, strict mode optimization and lazy loading mode optimization. At the same time, it is also committed to the development of some ARM SoC drivers.
When time and energy permit, I also contributed to other modules of the Linux kernel, found some areas for improvement, and performed some cleanup work.
In the future, I will continue to make more and more important contributions to the Linux community.

After receiving this reply, the administrator immediately replied that he was affirmed that he had made many important contributions to the community in the past.
And, it's not that the "small cleanup" work he did separately is not important, but please synthesize a large patch set for submission next time .
He is also very familiar with the huge contribution of his employer, Huawei, and has no doubts.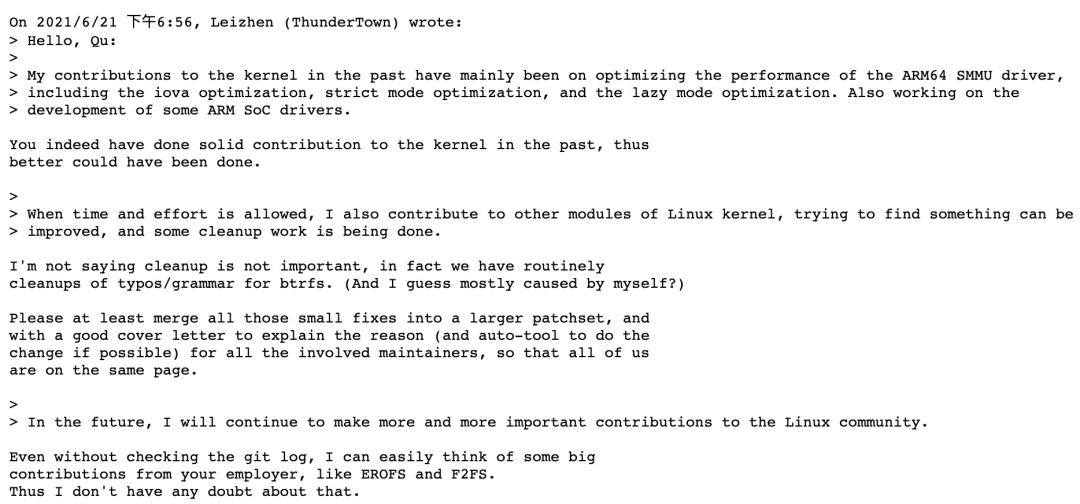 At the end of the letter, the administrator also listed some modules that can be contributed. If he wants, he can refer to it.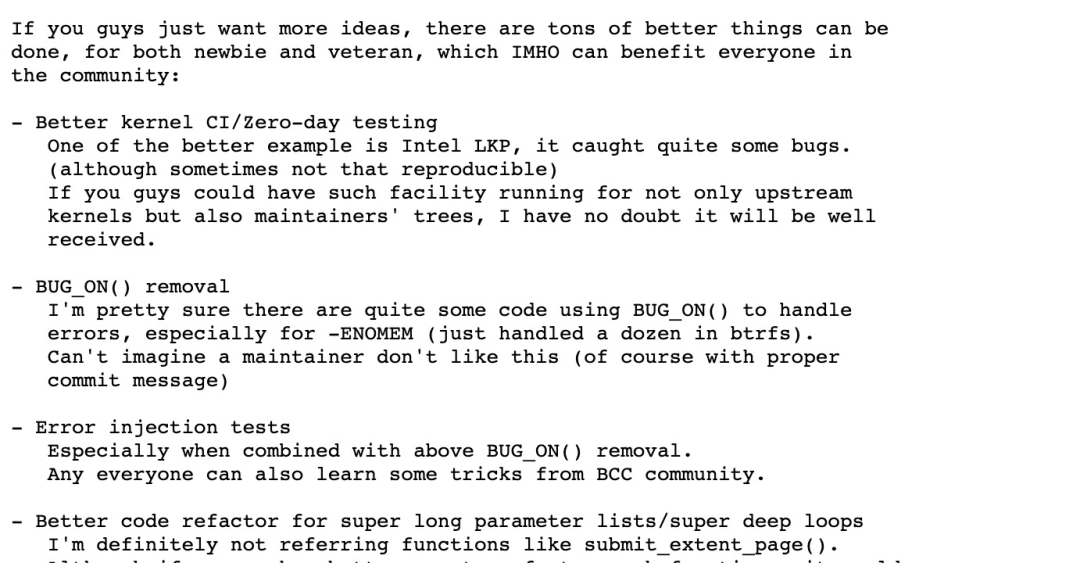 Judging from the replies of both parties, it does not seem to be a big contradiction, and both parties are calmly discussing the matter.
Reliable code transformation?
The incident has basically come to an end, and the discussion on the off-site replays by netizens has not ceased:
Many people pointed out that Huawei was rectifying the quality of the code and submitted these "little troubles". However, the number of maintainers in the Linux community is small and all of them are very busy. It is normal to have grievances.

Why rectify the code quality? Probably for code credibility transformation : as long as open source software does not comply with Huawei's code specifications, they also need to provide a patch to the community after internal modification. The community may not accept it, but as long as you give an answer, you can prove your innocence. ".
In addition, the netizen @养猫的哈士奇 also said that he saw employees on the Green Hat forum saying: It is not KPI that is swiped, it is Huawei's AI script that automatically ran out.
Therefore, to be precise, it does not count as a KPI .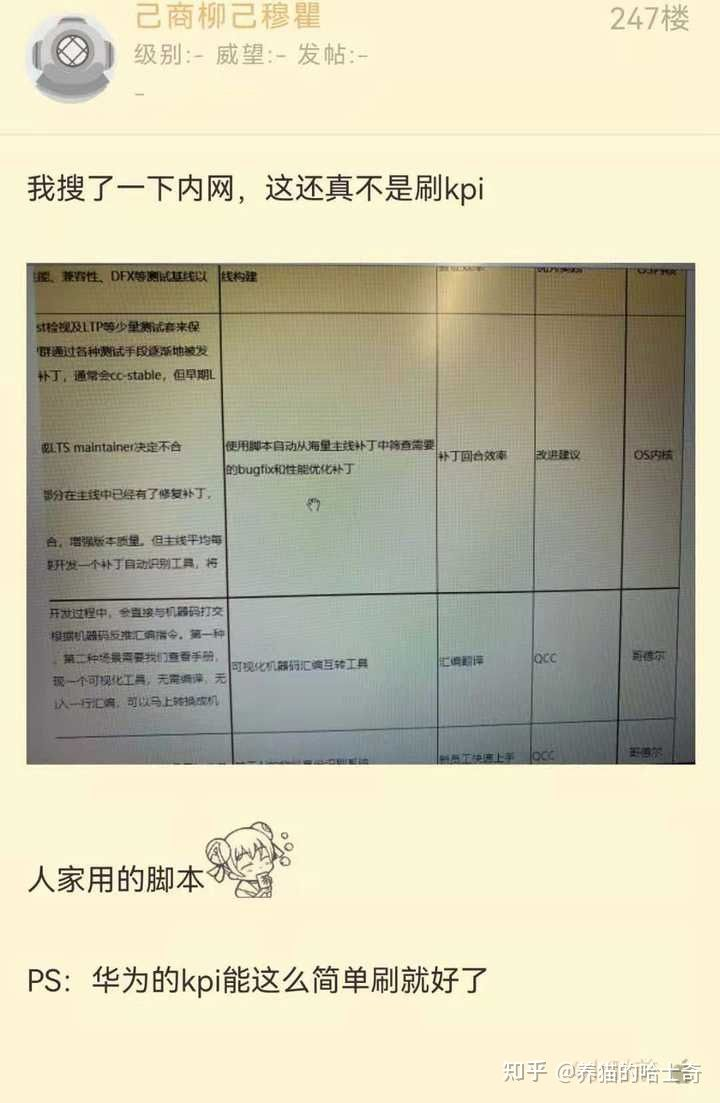 In response to a lot of conspiracy theories on the Internet, netizen @醉卧沙场 said: There is no need to make a fuss and expand the scope of discussion.
Seeing a lot of people spreading this thing on various platforms, it has caused a lot of war of words, I think it's a bit too much. I still hope that everyone can treat this matter with peace of mind. Up to now, a few days have passed. No one in the "place of incident" (Linux mailing list) argued about this matter. As long as both parties responded to each other's emails, the content and attitude of the conversation were also very rational and sincere.


Finally, he believes: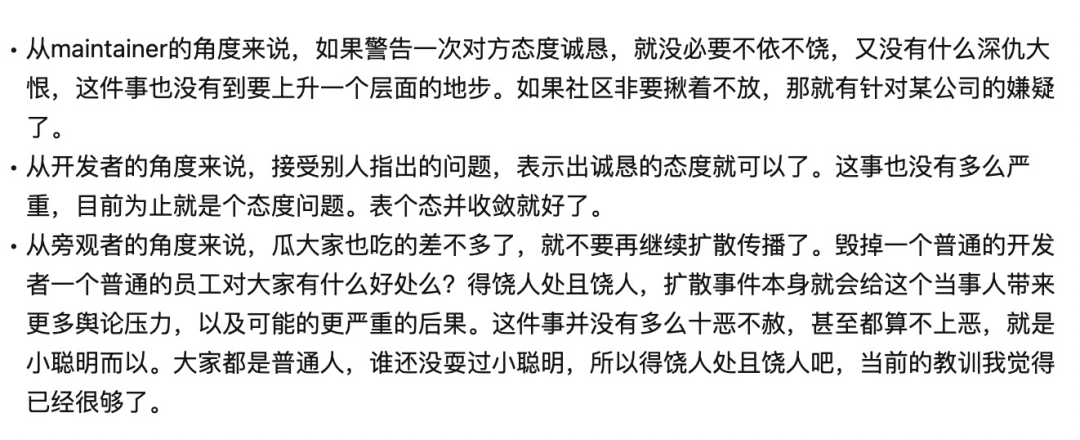 What do you think of it?
Original title: Huawei programmers frequently submit Linux kernel patches are questioned, the administrator's follow-up response: Acknowledge contributions, but please do not submit trivially