Huawei's talented teenager has a new work: an ordinary bicycle has become a real "bicycle"
Huawei's talented teenager has a new work: an ordinary bicycle has become a real "bicycle"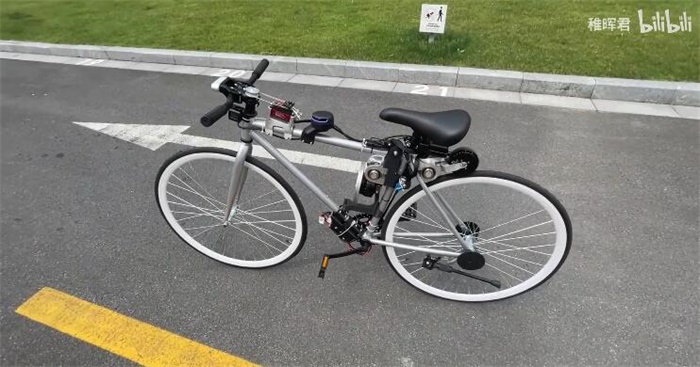 Solicited by Huawei's "Genius Youth Project", the technology tycoon "Zhihui Jun" who once relied on self-made mini-Linux computers, NFC ID cards, and a popular B station with a screened power bank, has recently produced new works. This time, he transformed an ordinary bicycle into a self-driving bicycle through various advanced technical means and equipment.
Zhihuijun said that he accidentally fell while riding a bicycle some time ago, so he is determined to make a self-driving bicycle that will not fall.
To make bicycles do not require people to walk by themselves, they must do a good job in perception, power and control. In terms of hardware, he equipped the bicycle with model airplane power lithium battery, brushless motor, steering gear, RGBD depth camera, lidar, control system, etc. In terms of software, Zhihui Jun imitated the human brain and designed a brain plus cerebellum architecture. Among them, the "brain" uses Huawei's Shengteng 310 AI processor, which is responsible for thinking.
Finally, after a series of simulations on the game engine, the self-driving bicycle is finally ready.
In the field test, the bicycle can maintain its balance at a standstill, and can even be stable under impact and increased load. Relying on a complete sensor system, it can also achieve a certain degree of automatic driving on the road and become a real "bicycle." In addition, limited by the power of the vehicle, this system is currently unable to carry people.
Zhihuijun studied at the University of Electronic Science and Technology of China. After graduating in 2018, he entered the OPPO algorithm post and was recruited by Huawei to enter the "Huawei Talented Youth Program." However, in the eyes of the public, he is mainly known for being the host of station B, often uploading hard-core hardware DIY videos, full of science and technology, and known as "Wild Iron Man."
The "Huawei Talented Youth Project" originated from Ren Zhengfei's speech on June 20, 2019.
He said at the time: "This year we will recruit 20-30 talented teenagers from all over the world, and next year we want to recruit 200-300 talented teenagers from around the world. These talented teenagers are like'loaches', drilling our organization. Activate our team."
Subsequently, the outside world conventionally referred to this recruitment plan as the "Genius Youth Project."
The plan is extremely demanding, either to publish papers in top international journals; or to have excellent and rich commercialization results in the research direction; or to have a well-known competition ranking. The return is also very outstanding: starting with an annual salary of 1 million.