The middle-aged and elderly people trapped in the live broadcast room become the "new leek"?
The middle-aged and elderly people trapped in the live broadcast room become the "new leek"?
E-commerce live broadcasts are no longer just for young people.
"Mom bought you a box of mangoes. It should be here in a few days. Remember to take it back." A netizen from Beijing, Xiaoshan, received a message from her mother. What shocked her was that her mother, who had always been a marginal person on the Internet, also started online shopping.
After retrieving the mango, Xiaoshan could only sigh helplessly, and he was indeed fooled. A box of 9 yuan and 9 contains 32 small green mangoes. Even if they have been stored for a week, there are still no signs of ripening. When she took a picture and sent it to her mother, her mother also said, "I saw the video from other people's videos very well, how come back is like this, change the house next time".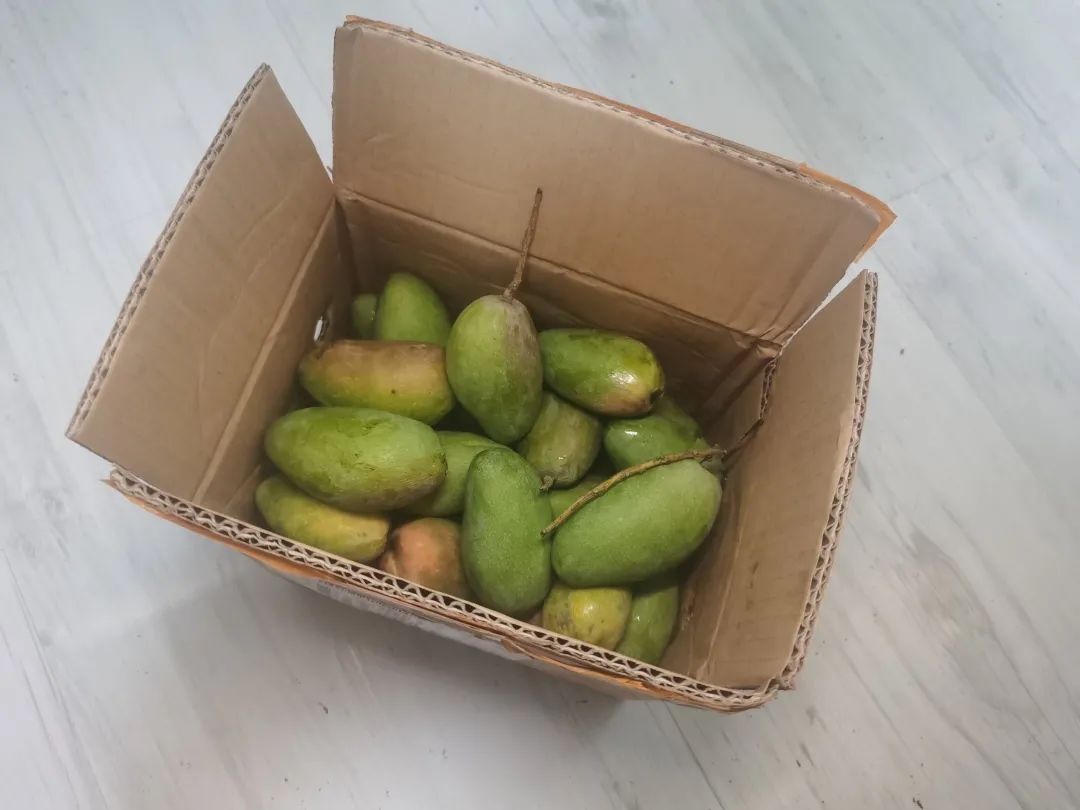 Only then did I know that this was not my mother's first online shopping. From fruits to clothing, from cosmetics to daily necessities, now my mother has become a veritable "handsman". And the source of all shopping is not Taobao and Pinduoduo, but the live broadcast room that I watch every day.
The mother who used to teach herself not to blindly shop online, now she sinks into a shopping spree in the live broadcast room. "9 yuan and 9 free shipping", "welfare products limited time seckill", "last ten sold out"... The mothers were constantly brainwashed by the anchor's words, and under the so-called temptation, they obediently handed over their wallets.
In the face of their children's persuasion, they still maintain their own stubbornness: You say I spend money randomly, look at these things at home, which is not what I bought back, compared with several companies to find such a cheap one. I didn't buy it this time, just because I didn't buy it well, I just want to change another one next time.
Now, more and more middle-aged and elderly people have crossed the digital divide to become an online shopping group, and short video platforms have become their online shopping battlefield. A shopkeeper who specializes in live broadcasts also said: "It is obvious that middle-aged users are more and more willing to spend money, and place orders while interacting with live broadcasts. What are they fashionable to buy."
Through the observation of the fan portrait of the shopkeeper's account by Crawley Red Butler, it can be found that her fans are mainly concentrated in the female group over the age of 40, which is inseparable from her main clothing category, but also has over one million fans It proves the enthusiasm of middle-aged and elderly people for shopping in the live broadcast room.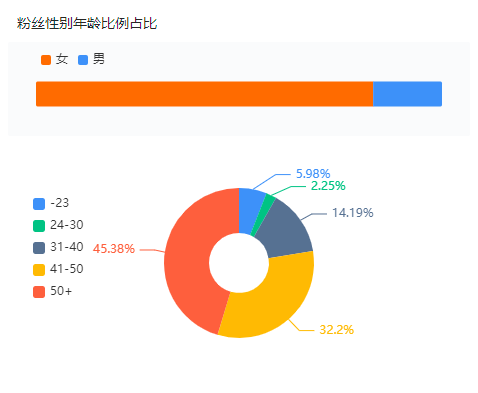 When there are more and more middle-aged and elderly groups in the live broadcast room, the anchors have fully grasped their psychology, and low-price temptations, serial routines, and plot interpretations have begun to play. When they get deeper and deeper in the live broadcast room, who can help them?
Middle-aged man addicted to the live broadcast
Unconsciously, middle-aged and elderly people have become a new generation of mobile phones. The "Silver-haired Crowd Insight Report" shows that the average monthly mobile Internet usage time of the silver-haired group has increased to at least 118 hours per month. In other words, the middle-aged and elderly people use the Internet at least 4 hours a day on average, and the relevant data will continue to increase in the future. (The silver-haired people here refer to the middle-aged and elderly people over 45)
Following the square dance and short videos, shopping in the live room has become a new entertainment method for the elders.
"It used to be my parents nagging us not to stare at the computer and mobile phones, but now it's all the other way around. Mom and Dad can watch the live broadcast at home for a day. Sometimes they even don't sleep until one or two in the middle of the night, and they always buy one. Pile things." kk only changed his parents' smartphones the year before last. He wanted to make them better adapt to the Internet age, but found that his parents became addicted to the webcast room.
I don't know when it will start. There are more and more express delivery at home, and I have to go to the rookie station almost every day. For why to buy these things, my mother can always find a reason. "This thing is cheaper than the store outside", "This is for agricultural products", "I just want to buy it at home"... Faced with these remarks, kk can only express helplessness.
The parents' live-streaming shopping behavior caused Ruoruo, who works in the field, to collapse. "Always buy me things I don't need without saying hello, and the quality is very poor." Even though I have told my parents that I don't need to buy anything for myself, I can still receive express delivery occasionally.
For Ruoruo, the family is not a particularly wealthy family. The monthly salary of the old couple is only five or six thousand yuan, and it will cost one or two thousand to buy things in the live broadcast room. Mothers may feel that they have bought cheap things in the live broadcast room and saved themselves a lot of money, but they have spent a lot of them unknowingly!
Searching for "parents' live room shopping" on Zhihu, you can also see many netizens asking for help. "What should I do if my mother is addicted to shopping in the live streaming room on Taobao?" "How can I save my parents to buy products in Kuaishou watching live streaming?" "What should I do if my mother is obsessed with shopping on Douyin live streaming?"...A series of posts all reflect the frenzy of parents shopping in the live streaming room .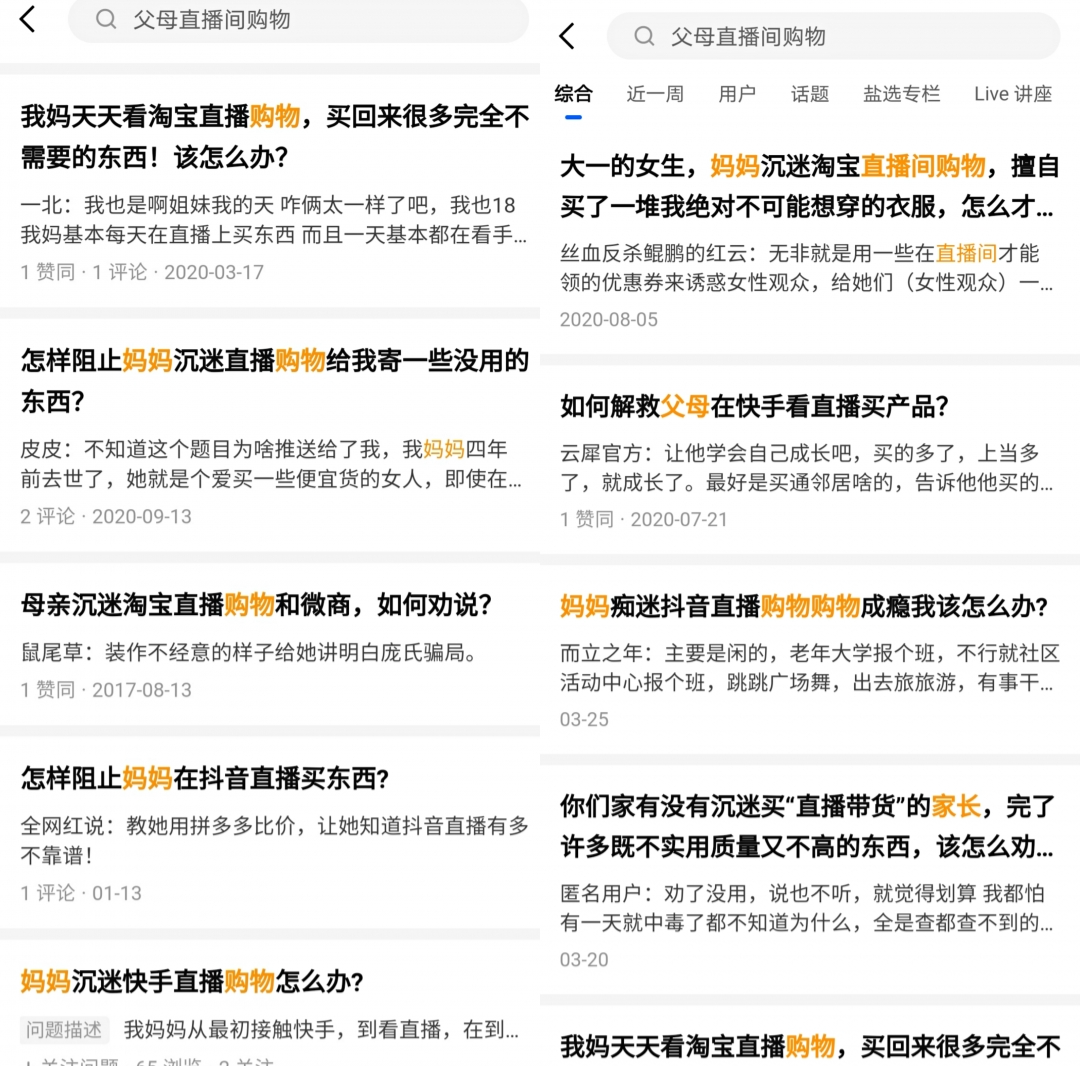 Not long ago, the Weibo topic #elder generation indulgence in the live broadcast room shopping should be dissuaded? On the hot search, "indulge", "no way", "helpless"... have become common words for young people to describe their parents' online shopping.
Faced with the obsession of the elders, many netizens also expressed that they should be guided in the right way, instead of preaching blindly. In the online world, the cognition of the elders is still limited. Only by keeping a calm and rational attitude and guiding their online behavior reasonably can they have sufficient motivation to put down their mobile phones.
Not just shopping in the live broadcast room
For the elders, especially mothers, most of the cost of eating and wearing is to worry about. Buying and buying has become a life habit of mothers. Ever since they felt the benefits and convenience of shopping in the live broadcast room, they became even more out of control. They are pursuing the ultimate price-performance ratio, and naturally they use the skills of shopping around to shopping in the live broadcast room.
Just as young people look for Wei Ya and Li Jiaqi, mothers also have anchors they look for. "In fact, we don't just buy what we see. Some people advertise very well during the live broadcast, but when they come back, things are very ordinary. We basically won't watch it again. If we encounter a good live broadcast room, we will I believe his stuff very much, and if there is a suitable one, I will buy it directly." Said Aunt Meng, who is experienced in online shopping.
Feel the fun of "chopping hands" in the live broadcast room. As long as you buy good things, you always share with people around you and "show off" to your children. This has become the norm for parents. In this process, they are happy.
However, practical reasons always make us feel pierced. When young people go to the big city to find a vast world, their parents' emotional sustenance is suddenly gone. This makes them unable to find other topics apart from the trivialities of firewood, rice, oil, salt, sauce, vinegar and tea. The lack of companionship and confidant has become a big problem before them. .
There has also been a formula circulating on the Internet: if a year, only 7 days after the New Year can we go home with our parents and spend at most 11 hours a day together. If our parents are now 60 years old and live to 80 years old, we will actually be with our parents. The time is only 1540 hours, which is 64 days.
Middle-aged and elderly people need more and more company, and most of their children cannot meet the sense of company they need. In the live broadcast room, the anchor's overflowing explanations give parents a sense of company, and the interaction in the comments allows them to participate in person.
This new way of shopping has given them a stimulus to their monotonous life and realized their sense of existence in spirit, which is an unprecedented satisfaction for them. What's more, cheap things on the Internet will not cause the middle-aged and elderly people who have experienced material scarcity to feel "guilt" in the process of buying and buying, and it has become a kind of disguised emotional pressure for them.
It turns out that shopping in the live room is just one of their ways to resolve loneliness.
Reaping middle-aged and elderly people in live broadcast routines
Nowadays, the middle-aged and elderly people have experienced the era of material scarcity. The psychology of picking up cheap and saving the cost of living will be more prominent.
When you click on a live broadcast room, you can hear the anchor yell "This product is a welfare product. It starts to kill at 8 o'clock and it is taken at half the price. You can get another 10 yuan off the coupon. Are the family ready?" This kind of discount, coupled with the anchor's voice and affection playing the "family" card, instantly captured the hearts of the elders.
Many live broadcasts will take advantage of their psychology to take advantage of them, using various promotional words, spikes, and limited purchases to make routines. If there is no demand, create demand for you. Parents can easily pay the bill under the stimulation of the anchor's speech skills.
Not only that, in the face of the elders who lack the ability to discern new things on the Internet, the anchors also set up their own personal settings. "Independent entrepreneurship", "single mothers", and "public welfare assistance to farmers"... The story of the anchor made the elders talk about it, and they have a sense of trust in them. Even if their children tell them not to listen to the stories in the live broadcast, they are all acting, and they still enjoy it.
A netizen on Zhihu shared a shopping experience of his mother, "My mother bought 500+ skin care products kits, and they were super inferior as soon as they opened. What the anchor personally tried to make with medicinal materials, but at first glance, it is not well-known. The cosmetics of the factory. I said that the money is not good for buying something, and how good a big factory with a cheap and regular brand is, she is still very aggrieved, and I can't bear to say anything."
Many netizens also said that, in fact, we are not distressed by money, but feel that they are buying useless things every day, many things are cheap, they are not used when they are bought, or some are not working at all. I really don't know how to stop them from buying some brainless things in the live broadcast room.
The elders can't control their desire to shop in the live broadcast room, and they can't stop the discount and companionship in the live broadcast room. "9.9 yuan a box of paper towels, you can't buy it at a loss, you can't buy it. The paper towels can be used at home at any time, and they will not expire." How can they control a product with such a low decision-making cost?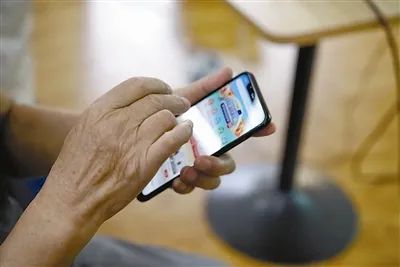 Now that the middle-aged and elderly people have spare money and time, their spending power and demand are actually much higher than those of young people. For those who are late to the Internet, consumption provides them not only with material needs, but to a large extent, it will even bring them more spiritual satisfaction, and it will also bring them closer to the mainstream society.
The middle-aged and elderly sinking market has a very large space, and there are many needs that can be digging deeper. From the previous TV shopping to the current live e-commerce, middle-aged and elderly people have always been the target of business competition. Especially live broadcast e-commerce has basically penetrated among young people. If you want to seek new increments, you can only sink the market or expand the age circle.
The middle-aged and elderly people began to play in the arena of live e-commerce, but they couldn't resist the routines of the anchors. Their knowledge of live streaming is still relatively shallow, and they can't look at live room shopping rationally and objectively, and they are more impulsive consumption.
When they are attracted and deceived by the various routines that are changing day by day on the Internet, what we can do is to accompany them a little more, be patient, and teach them the correct way to know how to shop in the live broadcast room.