More than 70,000 people in 67 villages and towns in Bazhong, Sichuan suffered from floods, many ships were swept away by huge waves
On the afternoon of July 10, near the dam of Sanjiang Power Station in Bazhou District, Bazhong City, Sichuan, many ships and speedboats were swept away by a huge torrent and washed downstream. According to @四川天气, from 8 am on the 9th to 14:00 on the 10th, there was a heavy rainstorm in Bazhong. It is expected that Bazhong will continue to issue yellow rainstorm warnings from today night to tomorrow day. There will also be heavy rain in Dazhou, Guang'an, Nanchong and other places. be careful!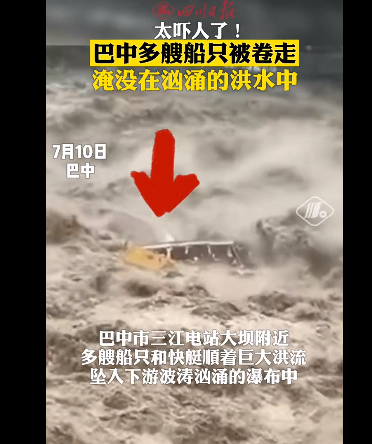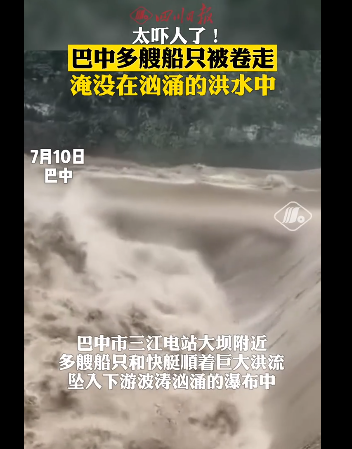 According to a report from the Bazhong City Flood Control and Drought Relief Headquarters Office:
The Municipal Meteorological Bureau issued a meteorological information bulletin at 14:00 on July 10: From 8 am to 14:00 on the 9th, there were 210 stations in the city with rainfall exceeding 50mm, 122 stations exceeding 100mm, and 2 stations exceeding 200mm, which are Hongsi in Nanjiang County. 221.5mm and 214.2mm in Caomiaozi in Tongjiang County. At present, the convective cloud clusters are maintained in Tongjiang and Pingchang counties. Please pay attention to strengthen prevention. It is expected that heavy rainfall will continue from day to night today. The main rainfall area is located in the east of the city, with rainfall of 80-150mm.
The Municipal Water Resources Bureau issued a blue flood warning: Affected by heavy rainfall and upstream water, the water levels of various river sections in Bazhong City have risen to varying degrees, and most of the river sections have maintained an upward trend, and some river sections have approached the warning water level. At present, there are 24 stations with an increase of more than 2m and 12 stations with an increase of more than 5m. Shentan River Xingma Station and Mengxi River Xiangtan Station exceed the guaranteed water level, Mengxi River Yuantuo Station, Tiexi River Shizi Station, Xiaotongjiangqing The water level at Yu Station is above the warning level. As of 14:00 on the 10th, the biggest increase occurred at 10.79m at Tongjiang Bixi Station. At present, the water level of Shuangtan Hydropower Station is 312.60, and the inflow and outflow is 2500m3/s; the water level of Nanjiang River Bazhong Station is 363.25m, the corresponding flow is 7680m3/s, and the water level of Bahe Fengtan Station is 293.30m, and the corresponding flow is 3780m3/s.
As of 14:30 on July 10, a total of 67 towns in the five districts and counties and economic development zones of Bazhong City were affected by the disaster. 71,879 people were affected, 817 people were urgently transferred and resettled, and the direct economic loss was 108.989 million yuan . The disaster situation is under continuous statistics.