Shaanxi Ziyang found 1 case of asymptomatic infection of new crowns who had worked in Dongguan
According to a report from the Ziyang County Epidemic Prevention and Control Headquarters Office of Shaanxi Province: On July 9th, Ziyang County found one imported asymptomatic infection of the new crown virus.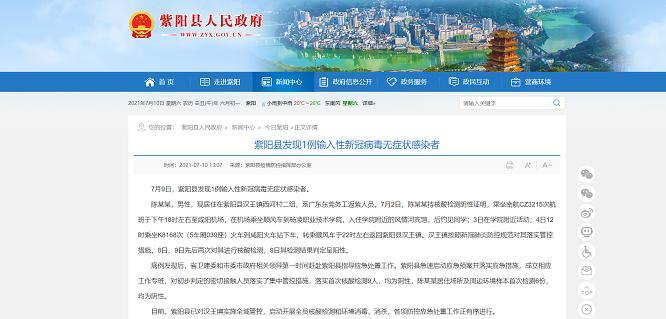 Chen Moumou, male, currently living in Group 2 of Xihe Village, Hanwang Town, Ziyang County, is a returnee from Dongguan, Guangdong. On July 2, Chen Moumou took the China Southern Airlines flight CZ3215 to Xianyang Airport at around 18:00 with a negative nucleic acid test certificate, and took a ride at the airport to Yangling Vocational and Technical College, and stayed at Fengqinghe Hotel near the college, and then met with classmates; Activities in the vicinity of the college on the 3rd; take the K8168 train (039 seats in 5 carriages) at 12:00 on the 4th and get off at Xianyang Railway Station, then transfer to a shuttle bus to return to Hanwang Town, Ziyang County at about 22:00. Hanwang Town has implemented control measures in accordance with the new crown pneumonia prevention and control regulations. On the 8th and 9th, he was tested for nucleic acid twice, and on the 9th his test result was judged to be positive.
After the case was discovered, the relevant leaders of the Shaanxi Provincial Health Commission and the Ankang Municipal Party Committee and government rushed to Ziyang County to guide emergency response work as soon as possible. Ziyang County quickly launched an emergency plan and implemented emergency measures, established corresponding work teams, implemented centralized control measures for the initially determined close contacts, and implemented the first nucleic acid test for 9 people, all of whom were negative, samples of Chen's residence and surrounding environment Six copies were tested for the first time and all were negative.
At present, Ziyang County has implemented global management and control of Hanwang Town, and initiated the implementation of nucleic acid testing, environmental disinfection and disinfection of all employees, and various emergency response measures for prevention and control are proceeding in an orderly manner. (Headquarters reporter Yang Yongqing)