If one day, you need to move two buckets of water on a building without elevator, what preparations do you have to do?  Swimming fitness.....
If one day, you need to move two buckets of water on a building without elevator, what preparations do you have to do? Swimming fitness...No, "Muscle Fabric" to find out !
When it comes to wearable robots, you must think of "Mecha Warriors", creaking as they walk. Recently, the new material developed by the Korea Institute of Machinery has changed the steel and iron bones and transformed the wearable robot into a "muscle cloth". You only need to wear clothes made of this kind of cloth to gain superhuman strength easily and low-key. !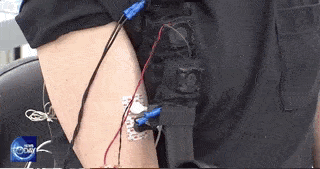 "Muscle fabric" can contract and relax spontaneously, and assist in exerting force丨KBS NEWS
Muscle fabric, just wear it
The emergence of this "muscle cloth" has made the wearable robot take a big step towards a cheap, lightweight, easy-to-wear silent product: as long as it is attached to the clothes, you can instantly become a strongman .
Electricity makes muscle fabric contract and relax丨KBS NEWS
"Muscle cloth" no additional engines, by people you can adjust its working condition ohmic heating . "Muscle cloth" shares the force of the operator through its own contraction and relaxation, so that the operator can withstand greater force and complete the lifting and carrying of heavy objects. Muscle cloth the size of an adult's palm can assist in carrying 10 kilograms of objects.
6.6 grams of muscle fabric can carry 10 kilograms of weight丨KBS NEWS
This cotton cloth is not of a general line, of which the "fabric" is a shape memory alloy . This kind of memory alloy has a diameter of only 20 microns, and it is in a stretched state at room temperature, and will shrink when it is heated by electricity. By controlling the shape of the cloth, the relaxation and contraction of real muscles can be simulated. At the same time, there are sensors in the muscle cloth for measuring temperature and measuring contraction length, which are used to feed back the real-time status of the muscle cloth to the control system.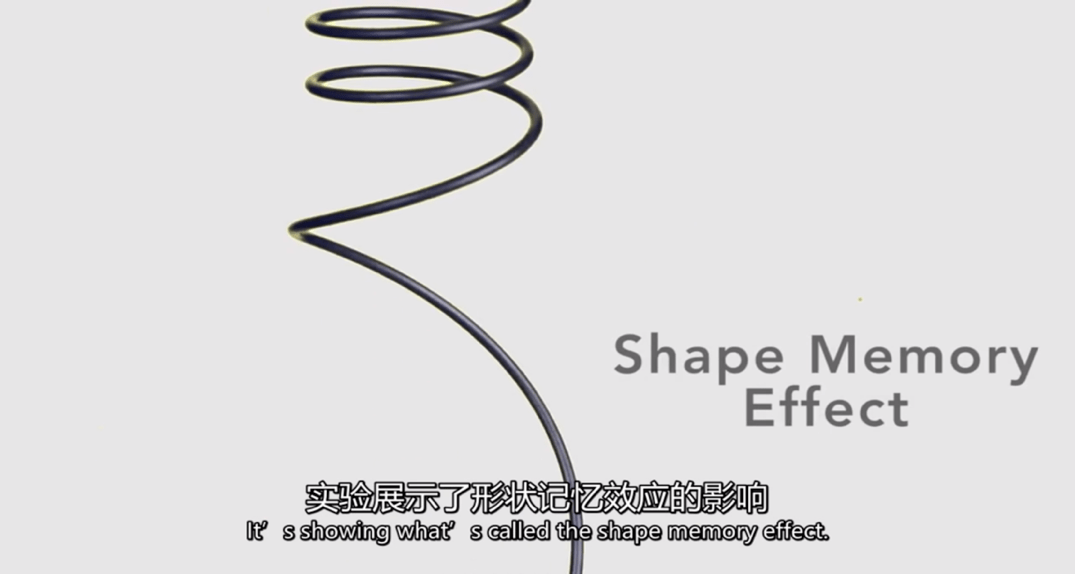 Shape memory alloy cable, keep stretched at room temperature, shrink into a spring shape after being heated丨engineerguy/Youtube
This is not the first time that shape memory alloys have been used in wearable devices. In 2019, the Korea Machine Research Institute made an attempt. Researchers designed a garment, the shape memory alloy is embedded in clothing to the arm cylinder in the form of plug-ins to form a garment-type wearable robot (STWR, Suit-type Wearable Robot ).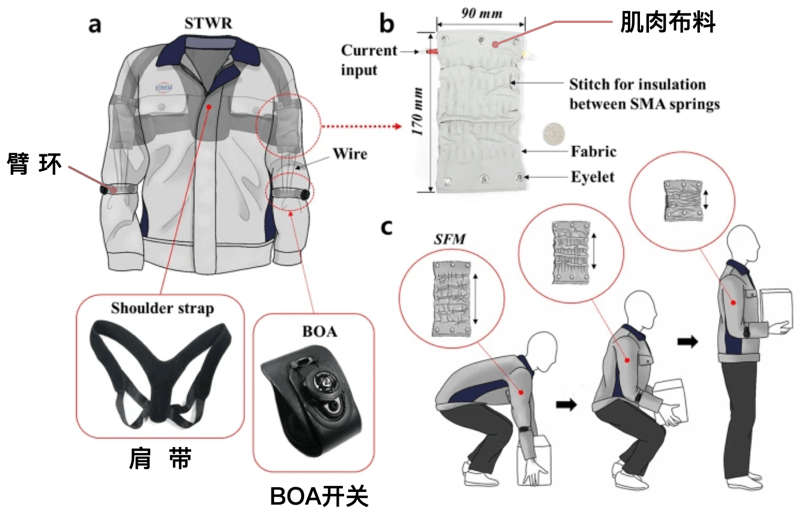 Schematic diagram of the new clothing-style wearable robot STWR丨References [3]
The clothing-type wearable robot is convenient and easy to use. When the switch is turned on, the muscle fabric is heated and contracted to drive the arm to assist the wearer to carry heavy objects; the muscle fabric can be maintained in a stable contraction state by keeping the power supply of the muscle fabric during the transportation process; after the transportation is completed, the switch is turned off and the fabric becomes a relaxed state by natural cooling .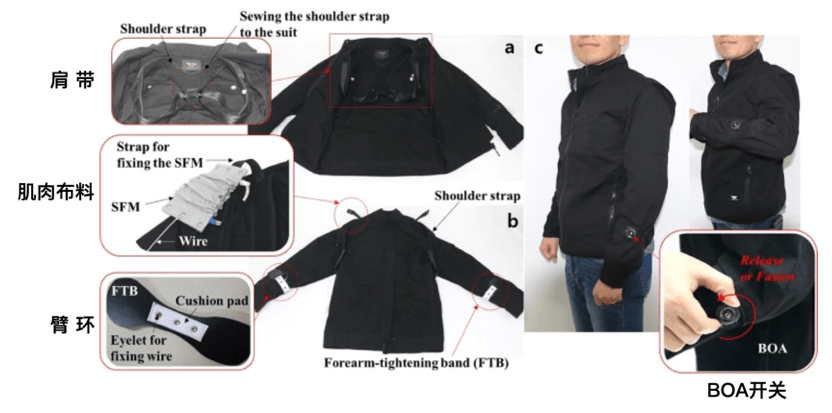 Physical image of the new clothing-style wearable robot STWR丨References [3]
Clothing-type wearable robots have two working modes: handling mode and normal mode. Normal mode does not provide you with extra power. You can turn the switch when you need to use it to quickly switch the handling mode. In the transport mode, the two pieces of muscle fabric can produce a maximum of 200 N of traction, and the power is 300 watts, allowing the wearer to lift 20 kg of objects effortlessly.
Wearable robots: hard and soft are indispensable
In this way, it seems that the clumsy "armor-style" robot can be replaced by "muscle cloth" in minutes. In fact, in different usage scenarios, it is really hard to say which one is strong and which is weak .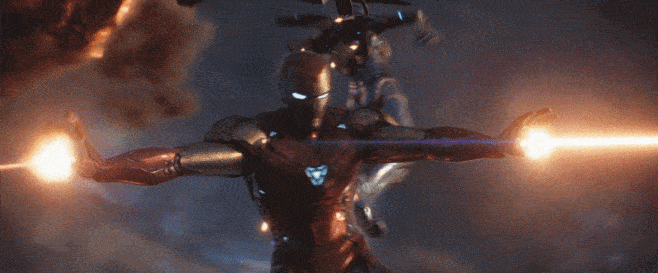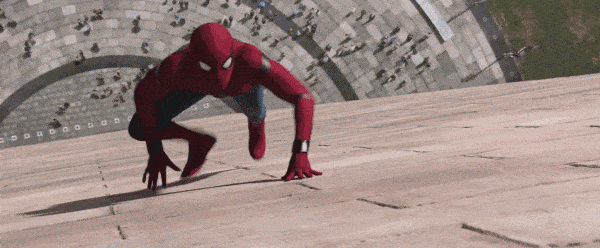 In the Marvel universe, Stark and Parker are a pair of golden partners, and none of them will work.
Cool sci-fi movie kinetic energy armor, with tough shape and mechanical structure, this mighty but somewhat clumsy copper steel frame arm, also entered the public eye in the early hard wearable robot , because the form is also known as bone It is an exoskeleton robot.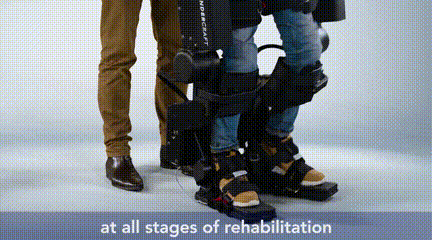 France has developed an Atalante exoskeleton robot, which is mainly used for lower limb rehabilitation to assist patients in standing or walking. The wearer can shake left and right and bend over to pick up things.
Exoskeleton robots have the advantage that soft robots are difficult to replace. First of all, the rich accumulation of technology has made it highly commercialized and has been widely used in different occasions. At the same time, the exoskeleton robot material has higher rigidity, can bear more weight, stronger load capacity, and stronger endurance . In occasions such as factory assembly line and logistics handling, the requirements for efficiency are higher, but the requirements for appearance and wearing comfort are lower. At this time, the exoskeleton robot is relatively more competent.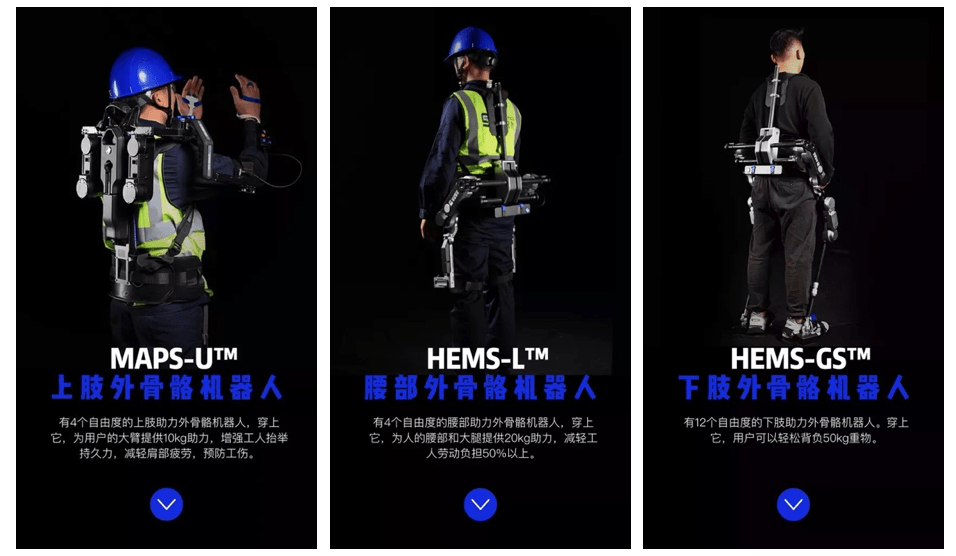 Exoskeleton robots with different functions丨ulsrobotics
However, exoskeleton robot products have not yet reached the level of "wearing without feeling", and the wearer needs to endure the pain caused by weight and noise.
Similar Spiderman jersey fabrics, like muscle, is soft wearable robot represents. The soft wearable robot is light and soft, more comfortable to use, and has a higher degree of non-influence. Because of its high flexibility, it can fit the body well in some occasions to provide a good experience.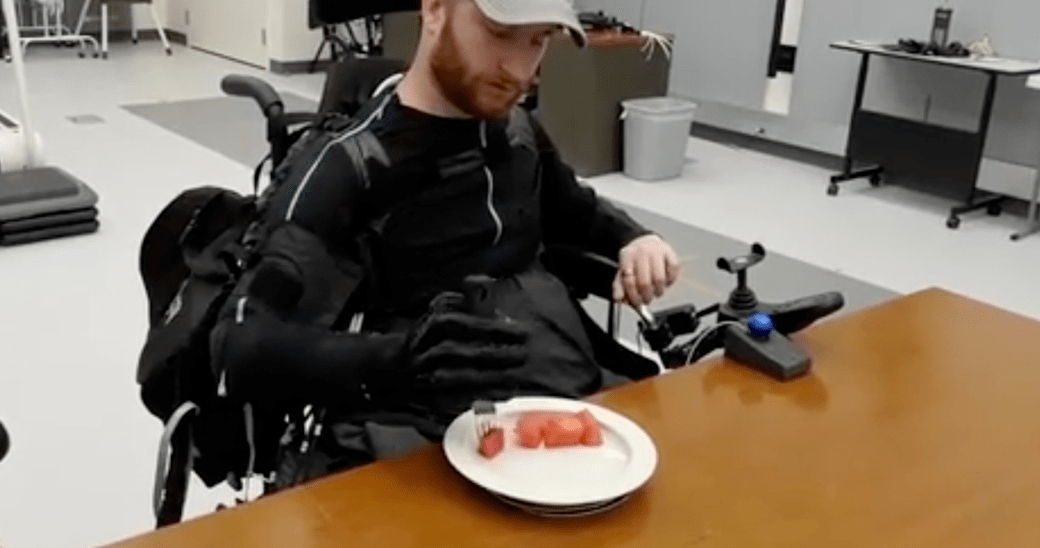 The Harvard University research team once introduced a glove-like wearable rehabilitation software robot, which uses artificial pneumatic muscles to assist people in rehabilitation training. 丨National Science Foundation/Youtube
When exoskeleton wearable robots appeared, people were amazed that "the future has come", and now the emergence of "muscle cloth" also immediately triggered various discussions. People boldly figured out the wings of imagination: "use muscle ATP for energy" "Using gravity to store energy", "Using human muscles to antagonize energy storage based on the principle of ergonomics"...
This reminds me of "Cyberpunk 2077". As I gallop freely in the Night City, I often wonder whether implantation of prosthetic bodies will become a trend, and will bionic humans become a new species?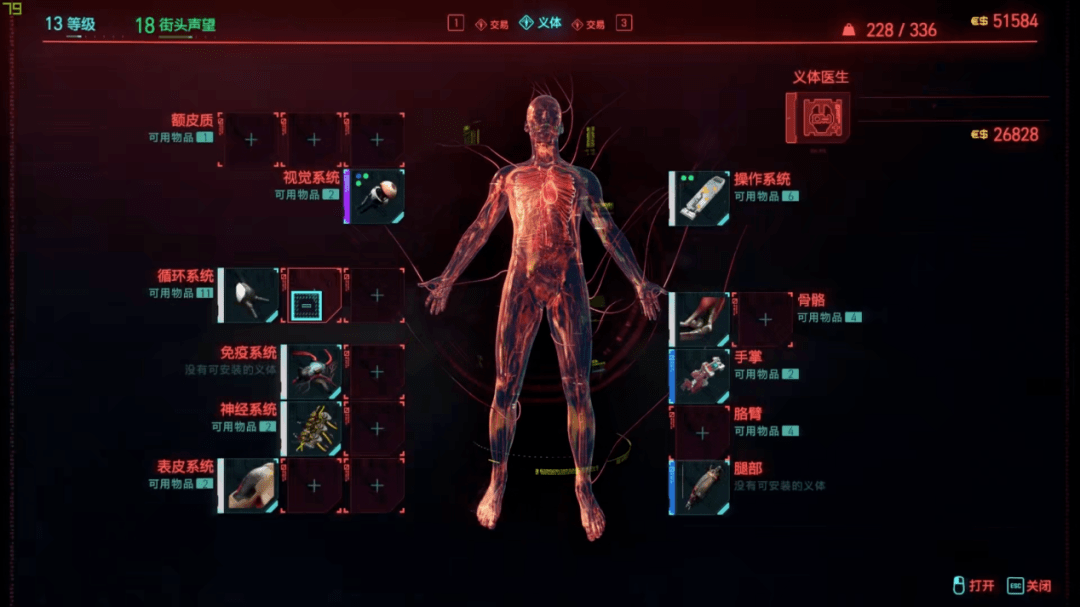 The development of technology is gradual, and the muscle fabric is also developed on the basis of the existing technology and creatively fusion of technologies in different fields. I believe that in the future, there will be more and more portable and easy-to-use wearable devices from the laboratory to the public. Bitter flesh is weak, machinery soaring , today muscles cloth, will be our move towards universal justice body of the future cyberpunk first step it?
references
1.Gopura, RARC, Bandara, DSV, Kiguchi, K. & Mann, GK Developments in hardware systems of active upper-limb exoskeleton robots: A review. Robot. Auton. Syst. 75, 203–220 (2016).
4. Yang Jiannan, Huang Bin, Gu Xiaojun, Wang Jun, Zhang Yahui, Zhu Jihong, Zhang Weihong. Overview of the mechanical behavior and applications of shape memory alloys[J/OL]. Chinese Journal of Solid Mechanics:1-41[2021-05-18].https:/ /doi.org/10.19636/j.cnki.cjsm42-1250/o3.2021.028.
5. Guo Liang, Zhang Xiuqing. Research progress of metal-based shape memory alloys[J].Journal of Functional Materials and Devices,2020,26(05):323-330.