A 12-year-old naughty boy swallowed a metal lock by mistake. The doctor used an endoscope to easily take it out in 7 minutes  Children are a...
A 12-year-old naughty boy swallowed a metal lock by mistake. The doctor used an endoscope to easily take it out in 7 minutes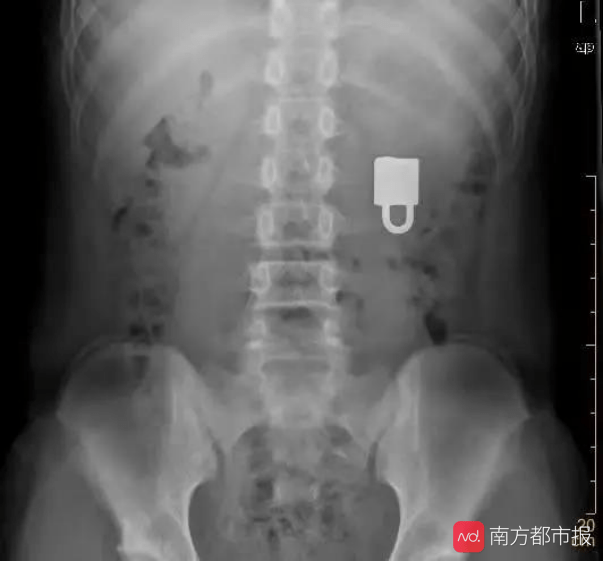 Children are always full of curiosity about the surrounding things and like to stuff all kinds of things into their mouths. Recently, a 12-year-old naughty boy, Xiaodong (pseudonym), accidentally swallowed a metal lock, about 3X4cm in size, out of curiosity. His family was rushed to the hospital when he was found out.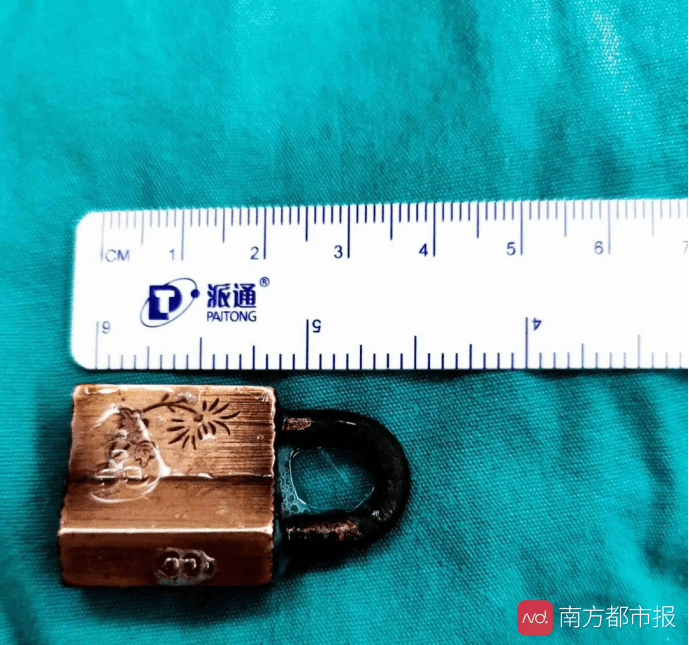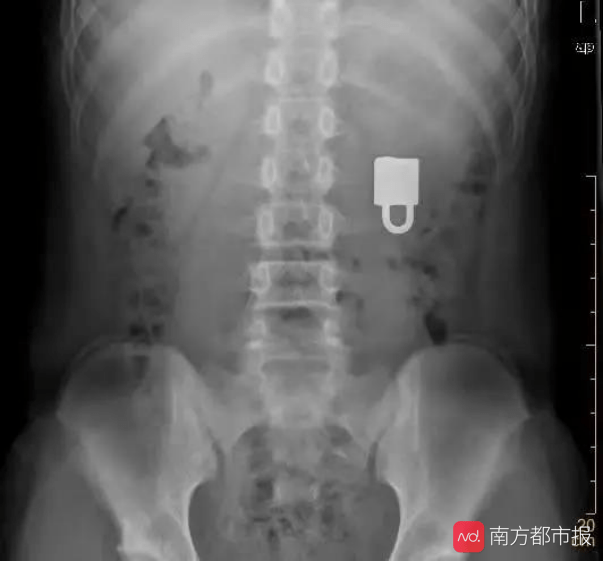 The operation took 7 minutes and Xiaodong was discharged the next day after the operation
According to CT of the abdomen, there were large metal shadows in the stomach cavity of Xiaodong, and the liver, gallbladder, pancreas, spleen, kidneys, adrenal glands, and pelvic organs showed no obvious abnormalities in plain scan.
Because metal locks are difficult to discharge naturally through the human body, Nie Lifen, deputy chief physician of the Department of Gastroenterology, Guangzhou Red Cross Hospital, performed anesthesia gastroscopy under general anesthesia with endotracheal intubation in the operating room, and took out foreign bodies in the stomach through an endoscope. The operation process was very smooth and only took 7 minutes. Fortunately, the family found out in time, Xiaodong had no complications and suffered invasive surgery. Xiaodong was discharged from the hospital with his parents the next day after the operation.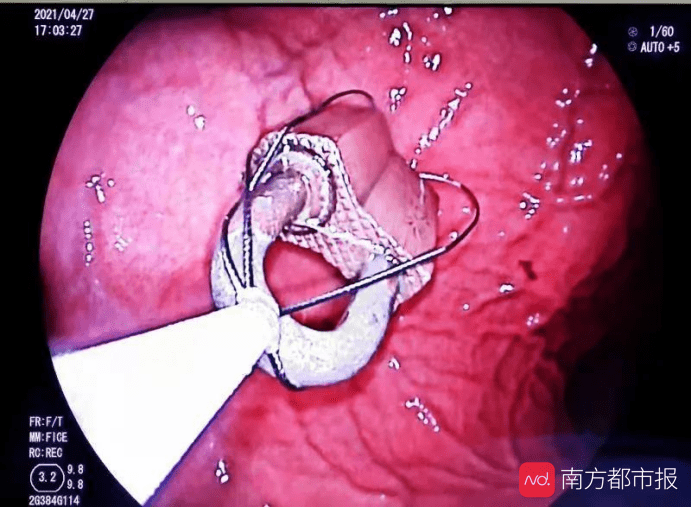 The doctor took out the metal lock through an "electronic endoscope".
It is reported that 80% to 90% of foreign bodies strayed into the stomach can be discharged naturally, but the natural discharge rate of children is only 60% to 80%. Therefore, sharp foreign bodies (such as chicken bones, toothpicks) or toxic foreign bodies (such as lead-containing materials) need to be actively treated to prevent mucosal damage or poisoning, gastrointestinal perforation, and bleeding. Other foreign bodies in the stomach are allowed to be observed for a period of time until they are discharged naturally. It is advisable to use an endoscope to remove foreign objects that are estimated to be difficult to discharge.
How does the endoscope remove the foreign body? It is understood that foreign body forceps, snares, net baskets, etc. can be inserted through the biopsy channel of the endoscope to remove the foreign body. For patients or children who cannot cooperate, they need general intravenous anesthesia or tracheal intubation anesthesia to assist in the removal of foreign bodies.
【Tips】
Children and the elderly are the high risk groups for swallowing foreign bodies
1. Once the foreign body is swallowed, stop eating immediately, seek medical attention as soon as possible, and take it out as soon as possible. Do not swallow rice balls, drink vinegar and other soil methods;
2. Since children and the elderly are high incidence of foreign body swallowing, children should be cared for and educated; the elderly should eat slowly, and the dentures that are active or damaged should be repaired in time to avoid tooth loss and swallowing by mistake;
3. Do "not to speak" when eating, and avoid talking and laughing loudly when eating;
4. There is a certain risk of taking foreign bodies, especially sharp and irregularly shaped foreign bodies at both ends, which may get stuck in the middle part of the esophagus and the stenosis of the esophagus. These parts are adjacent to many important tissue structures such as the aorta, trachea, and heart. It may cause perforation or even fatal hemorrhage or infection of the mediastinum and thoracic cavity. It is usually necessary to complete CT and other imaging examinations to clarify the location and neighboring relationship of the foreign body, and even multidisciplinary cooperation such as surgery is required to remove the foreign body under endoscopy. .
5. Compared with surgical operation, endoscopic foreign body removal has the advantages of less trauma, lower cost, and fewer iatrogenic complications. It can be used as the first-choice treatment.
Written by: Southern Metropolis reporter Yang Liyun, correspondent Luo Guobiao